Aren't You Ready?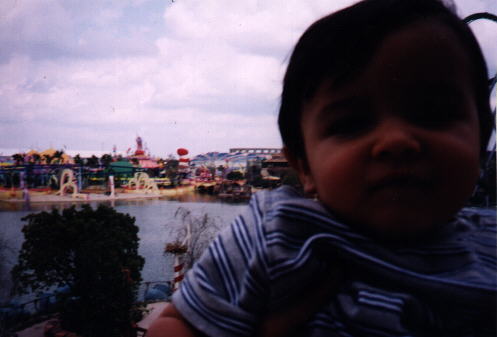 You're packed. You're set. Yet, somehow, you feel as if you're forgetting something. That's why you wound up here. No problem. Let's see if we've got you covered.
Tickets? Admission media can be purchased at the gate, or ahead of time through your travel agent or AAA office. The one-day, one-park rate is currently $54.75 plus tax per adult. Children ages 3 through 9 will be charged $44.95 plus tax. Under the age of 3? You're free! Prices subject to change, of course. If you plan on a longer stay -- and you really should -- you can save with multiday passes, annual passes and seasonal passes. Prices and promotions will vary but you can always check our Penny Pincher's Guide to IOA for discount information.
Park Hours? The park opens daily at 9am. Port of Entry will typically open a few minutes earlier to give you the opportunity to browse the shops, rent a locker, pick up a stroller or wheelchair, etc. The ropes at both Seuss Landing and Marvel Super Hero Island will drop at 9am opening time. The closing hours will vary, from as early as 6pm during slow season. You can call 1-888-UESCAPE to get the latest operating hours information or check them online.
Oh, I'm sure you get asked this all the time but. . . There is no such thing as a silly question but we know the ones that are asked most often. That's why we have compiled an entertaining guide that covers the basics on. . .

Parking at IOA
Stroller Rentals
Wheelchairs Rentals
Lockers at IOA
Universal Express ride reservations
Directions? While you won't need directions if you choose to stay at one of the three onsite resorts or a nearby hotel with complimentary shuttle bus service, if you are driving over getting to the park is a breeze. Just hop on I-4. If you're on the Turnpike or in the Downtown Orlando area you will be taking I-4 East (to Tampa). If you are in the Disney World area or coming in on the Beeline Expressway off the Orlando Airport you will be taking I-4 West (to Orlando). Westbound on I-4 you will get off at Exit #74B and take a right on Hollywood Way. If you are coming in Eastbound on I-4 you will get off at Exit #75 and take a left on Universal Boulevard. Don't worry. You can't miss the place and there are signs everywhere.
I'm at the Port of Entry, What Do I Do First? Oh, the ultimate dilemma. Arrive early. Pulling into the parking garage no later than 8:30am should give you plenty of time to soak in the early morning ambience of CityWalk, veer left towards the park, and be one of the first to begin your day's adventure. Spider-Man is the park's signature attraction and it does break down from time to time so you might want to hit that first. My itinerary tip for the speed-demon thrillseeker is to hit Spider-Man first. Then hit Dr. Doom and Hulk. Yes, in that order. Hulk loads fairly quickly while Doom does not -- so do Doom first. Then keep going clockwise into Toon Lagoon for Dudley Do Right and Popeye (if you are prepared to be soaked on both) and Jurassic Park River Adventure in Jurassic Park.
As long as you arrived in time to hit the park as it opens you will be done with six key rides by 11am . Okay, solid. Now it's time to take it easy through Jurassic Park. Take the time to enjoy the Discovery Center and Triceratops Encounter. The crowds will be filling in then so you might as well enjoy the sights. Dueling Dragons and Poseidon's Fury. All that Seuss Landings has to offer. Take your time. When you're done you might still have time to retrace your step to hit your favorites again. If your love for thrill rides runs low, simple. At Port of Entry do the park counter-clockwise, starting at Seuss Landings and Lost Continent where only one of the half-dozen main attractions comes with a height stick.
What if we get lost? Parks get crowded. Families get divided. It rarely happens but you should plan ahead just in case. Enjoying a park sometimes takes a little more precautionary planning than most adults consider. There is a Lost Children station by the Port of Entry. Agree to meet there, or any other icon of your choosing, if you anyone gets lost. For younger Islanders you should place an ID, even if it is simple as a hand-written piece of paper, in your children's pockets. Explain to your children that if they do get lost to seek out a park attendant. The attendant will look for the parents in the immediate area, and, if unsuccessful, will escort the child to Lost Children.
What is Universal Express? Like Disney's FastPass, Universal offers a free ride reservation system. Learn more in our entertaining Everything That You Ever Wanted to Know About Universal Express and Express Pass Plus guide.
Baby & IOA? The Port of Entry, as out of the way as it may seem by the time you are a soaked Popeye at the other end of the park is a good place to remember. It is there where a baby station is, complete with private feeding rooms. The family services area is located to your immediate right once you enter the park, as is Guest Services and Lost & Found. All bathrooms, male and female, have baby changing areas, but if you are short on diapers or need a little quiet quality time, head out to Port of Entry's care station.
This park has something for everybody. But don't force it. Even if your child meets the height requirement for a thrill ride, if there is any hesitation, back away. Do a kiddie swap so those who wish to ride get their chance but nothing ruins a vacation like frazzled nerves. Okay, maybe bad weather. If it's the grownups who are a bit timid, I suggest the book Are You Chicken? A Coward's Guide to Roller Coasters.
Money Saving Tips? Sure. Check out the Penny Pincher's Guide to Islands of Adventure for more information on how you can make your day at the park more affordable. Really. It's possible.
Won't I Get Hungry? Of course. Foodwise, you have plenty of places to eat at the park. While some families pack a lunch or leave when it's time to eat to save on the edibles, paying a slight premium to eat in one of the themed foodcourts may be more than worth considering. Keep in mind that the parks prohibit food and drinks to be brought inside the park. Coolers are a definite no-no. They do have security check bags on the way in. However, they will allow you to bring in baby food and toddler snacks. I haven't seen anyone turned away for bringing in water bottles either, though that may be enforced eventually.
Buy the travel books you need online through Amazon.com. . .

Orlando's Other Theme Parks - What to Do When You're Done With Disney. Kelly Monaghan's excellent follow-up including meaty Universal Orlando write-ups.

Universal Studios Escape : The Ultimate Guide to the Ultimate Theme Park Adventure - Kelly's latest book is also the first devoted to the entire Universal Orlando complex.
Are You Chicken? A Coward's Guide to Roller Coaters - Hey, we aren't all born brave!
Back to IslandsOfAdventure.com