Harry Potter and the Forbidden Journey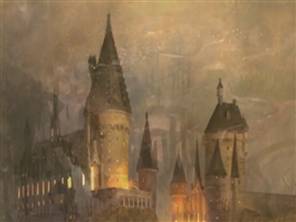 The signature attraction of The Wizarding World of Harry Potter is this state-of-the-art adventure into the heart of J.K. Rowling's classic series. It's also the first original park ride to open in 10 years!
It is located inside Hogwarts itself, providing an elaborately themed queue area that guests walk through until Harry, Hermoine, and Ron talk guests out of a boring lecture and into a more immersive experience. Guests then board ride vehicles that sit four across and the action begins as riders go through various sets and have close encounters with some of the heroes and villains of the series.
Where will you find the ride? It's all the way in the back of the park. You can't miss the Hogwarts castle that towers over the park. The vehicles don't go upside down and there are no big drops, but riders do sit with their feet dangling and some of the scenes do have swift sweeping motions. There are also a few scary scenes which may frighten young riders, but I'm not giving anything away by tellign you that it all ends well as every ride does. (Must be 36 inches to ride)
Stay onsite at Portofino Bay Hotel
Stay onsite at Hard Rock Hotel
Stay onsite at Royal Pacific Resort
By booking your stay at one of the three onsite resorts you will not only be staying a short walk or complimentary boat ride from the park -- you will also receive the Universal Express Front-of-the-Line benefit to avoid long lines and get on your favorite rides like this one quickly.

Logo art and most renderings Copyright 2003 Universal Orlando. All Rights Reserved. All reproductions of the park, or park content trademarks, are done under the "fair use" realm of trademark law. This site, its creator and associates, are not affiliated with Universal -- but we sure do love the place!