Hard Rock Hotel
Walk into the lobby of the 650-room Hard Rock Hotel and you know things are a little different. Rock and other forms of contemporary music are being pumped up and you never know how eccentric your check-in agent will be.
You get a free eight song Hard Rock compilation CD at check-in, which means, yes, you have a CD player in your room. More laidback than Portofino, Hard Rock opened in 2001 between the Portofino and the entrance to Universal Studios Florida. Music rules here. Even at the pool, dip your head underwater and you can hear that the music is being piped in there too. Cool water slide too. The food is simpler American fare than the great Italian eats at Portofino, though the hotel is home to the fancy Palm Restaurant. You can check for discounted rates for the Hard Rock Hotel online.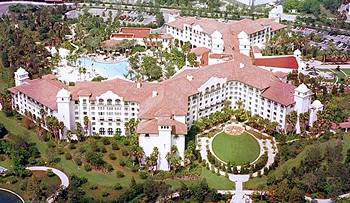 IslandsOfAdventure:
IslandsOfAdventure.com is part of the Siteclopedia Network of travel and edutainment websites. Media requests and feedback are always welcome - Contact Us. All park art and characters are Copyright 1999-2006 Universal Orlando. A Universal Studios/Rank Group Joint Venture. All Rights Reserved. All reproductions of the park, or park content trademarks, are done under the "fair use" realm of trademark law. This site, its creator and associates, are not affiliated with Universal -- but we sure do love the place!