The Incredible Hulk Coaster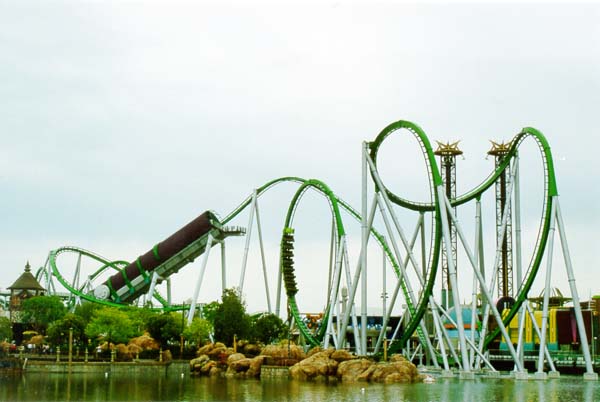 "Everything looks good. I think, I think this time it's going to work. No! No! Noooo!"
This is one mean, green, twisting machine. If you won't be heading out for at least another week, pick up America's Greatest Rollercoaster Thrills to experience Hulk from the seated perspective for a preview of one of B&M's greatest roller coasters. Amazon has it in DVD and VHS formats.
You start off, innocently enough, in Dr. Bruce Banner's laboratory. Unlike the traditional chainlift coasters, once you board your green and maroon train you will enter the scientist's slingshot gamma ray booster. We're talking no time for clickety. No time for Clack. No sooner are you there, replicating the green with envy doctor's good works that the lab security begins bellowing out "Warning! Warning!" Okay, don't say you weren't warned. In two seconds you will go from zero to 40 miles per hour in one of the most exhilarating moments in ride design history, catapulted into a fierce track that will feature seven unique inversions along the way.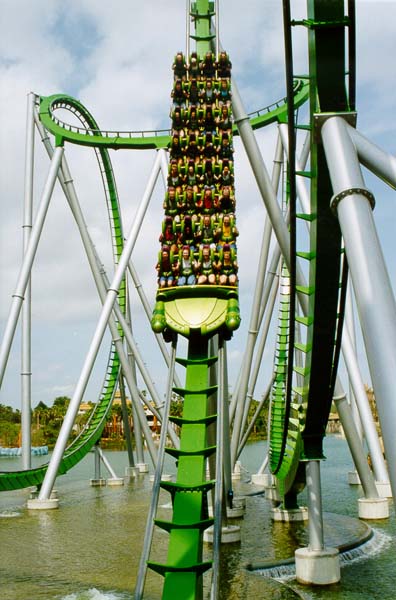 The track's launch is unique in that it is not the traditional linear induction motor catapult. Halfway up the lift, 220 motors beneath the track kick in to power the wheels and send you soaring into an amazing weightless zero roll. The demands are so intense that the ride had to install its own power plant generators so it wouldn't suck the juice out of the rest of the park -- or Orlando for that matter -- every time a Hulk coaster went into orbit.
From submerged mist tunnels to a neat little brake run towards the latter half of the ride that leads to a surprisingly violent dip followed by seemingly impossible twists this coaster will steal your heart -- and pound on it.
And if you see a green-faced passenger once you return to the station, don't worry, it's not the Hulk -- maybe he or she is just feeling a little queasy at the moment. (You must be 54 inches tall to ride)
Baby Swap -- This one is a bit different in that you can't get there from the queue itself. It is located at the unloading side of the station (and they won't let you walk through the line then walk the non-riding child over the tracks or an empty train to get there). So while the first riders make the regular line the Baby Swap group will go past the lockers, past the onboard photo area and up the exit ramp. You will see the room there. It's covered with plenty of seating and you have a great view of folks getting on and off the ride.
Want to see The Incredible Hulk in its Hollywood movie star debut? House on Haunted Hill, which came out in theaters late last year -- and just became available on DVD -- starts off with a Hulk coaster ride gone terribly wrong. Oh, those fear machines. The segment was filmed last Spring, just as the park was conducting its soft opening before the May 1999 Grand Opening. Anyway, it's definitely one to own given the historical IOA content and all. And, oh right, the fact that Amazon has it marked down to just $13.48 doesn't hurt either.
Stay onsite at Portofino Bay Hotel
Stay onsite at Hard Rock Hotel
Stay onsite at Royal Pacific Resort
By booking your stay at one of the three onsite resorts you will not only be staying a short walk or complimentary boat ride from the park -- you will also receive the Universal Express benefit to avoid long lines and get on your favorite rides like this one quickly.

SEARCH THE WEB FOR HULK - CLICK HERE

Logo art and most renderings Copyright 1999-2004 Universal Orlando. All Rights Reserved. All reproductions of the park, or park content trademarks, are done under the "fair use" realm of trademark law. This site, its creator and associates, are not affiliated with Universal Studios -- but we sure do love the place!