Jurassic Park River Adventure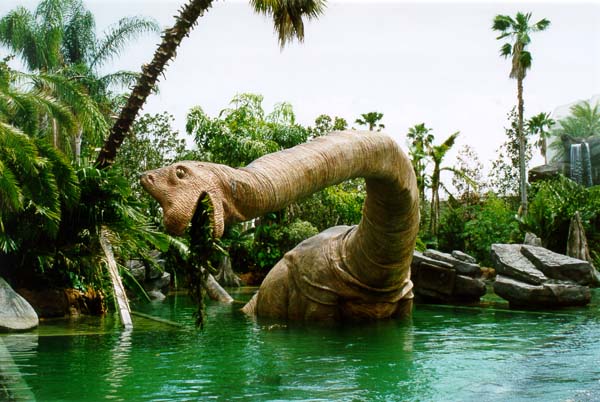 The crisp narrator inspires, the theme music swells, and as the huge signature wooden Jurassic Park doors swing open wide you and the other 24 passengers on your boat collectively "oooh" in awe. It's only the beginning of what is destined to be one of the most popular attractions in the park.
Your first dino is an Ultrasaur, craning his long neck over your passing boat as he chomps down some damp foliage. Another half-dozen friendly dinos await before a playful Hadrosaur bumps your boat off course.
Just your luck, you go ramming through a raptor holding area where havoc has taken over. Power lines dangle and shrubbery rattles. Something's not quite right. Bank on the chances that the two baby raptors fighting over the vest of a marooned rescue boat have bigger parents.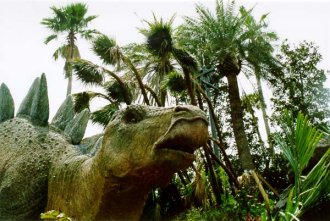 Water-spewing Spitters and menacing Velociraptors await in the enclosed warehouse but none as fierce as a huge T.Rex looking for a steady diet of parkgoers. Your escape? A wet 85 foot plunge into darkness.
This ride has it all. From well-rendered robotics to a frightening plot twist to a liquid-rich finale it is a nicely-done sibling to the original version at Universal Studios Hollywood. With ideal capacity of close to 3000 passengers an hour this is also one of the more efficient loaders in the park (meaning the lines shouldn't get too long even later in the day when the rest of the park bulks up). (You must be 42 inches to ride)
Baby Swap -- Another perfectly situationed baby swap station! This one overlooks the loading and unloading stations. It should, it's inbetween! A long bench and a tv monitor that plays the ride's safety tips video (over and over) will help pass the time. It's out in the open but it's roof-covered and comfortably breezy. You can get there through the regular line or the Universal Express line -- it's just off to your left before you board your boat. You can also get there if you go through the gift shop, out to the back and past the onboard photo area, then go right. Unfortunately that means you will have to go right through the unloading area so the employee working that area might prefer if you got there through the regular line. Once the first riders get off the boat, the employee will direct everyone to exit and go to their right. Just explain that you are doing a Baby Swap and go to your left instead.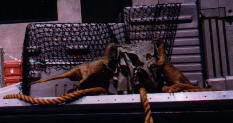 Stay onsite at Portofino Bay Hotel
Stay onsite at Hard Rock Hotel
Stay onsite at Royal Pacific Resort
By booking your stay at one of the three onsite resorts you will not only be staying a short walk or complimentary boat ride from the park -- you will also receive the Universal Express Front-of-the-Line benefit to avoid long lines and get on your favorite rides like this one quickly.

Logo art and most renderings Copyright 1999-2004 Universal Orlando. All Rights Reserved. All reproductions of the park, or park content trademarks, are done under the "fair use" realm of trademark law. This site, its creator and associates, are not affiliated with Universal -- but we sure do love the place!