Flight of the Hippogriff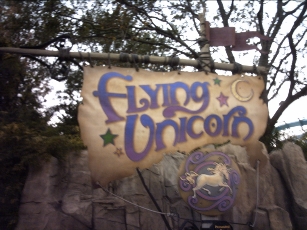 Much tamer than its more popular twin dragons next door, this family coaster strolls past the wooded area packs a decent punch for its size.
The ride originally opened in the summer of 2000 as The Lost Unicorn. It was rethemed in 2010 to become a part of Harry Potter's area. The unicorn cars were replaced with Hippogriff ones -- and young and old coaster riders will roll past Hagrid's hut and Buckbeak in his nest.
Where will you find the ride? It's the first Potter attraction that guests will find clockwise from Jurassic Park (or the last attraction going counter-clockwise from The Lost Continent. As for the ride? Yes, of course. You board your steel Hippogriff, with each row fitting two passengers. The ride itself is a cozy kid-appropriate glide through a tree-lined course that is a bit longer than your typical kiddie coaster. If some don't wish to ride they have benches and a waiting area right by the ride's exit. (Must be 36 inches to ride)
Stay onsite at Portofino Bay Hotel
Stay onsite at Hard Rock Hotel
Stay onsite at Royal Pacific Resort
By booking your stay at one of the three onsite resorts you will not only be staying a short walk or complimentary boat ride from the park -- you will also receive the Universal Express Front-of-the-Line benefit to avoid long lines and get on your favorite rides like this one quickly.

Logo art and most renderings Copyright 2003 Universal Orlando. All Rights Reserved. All reproductions of the park, or park content trademarks, are done under the "fair use" realm of trademark law. This site, its creator and associates, are not affiliated with Universal -- but we sure do love the place!